So I recently decided to work on some Prom Dresses because I know that girls usually start looking for them in January/February, plus, it would be a great opportunity for me to do some ACTUAL designing rather than the teeshirt reconstructions I've recently been posting in my etsy store. I decided to make quite a few and once I started with one I got a TON more ideas and now i have 4 in the works after just a few weeks. I also started talking to a photographer on Model Mayhem who is actually the staff photographer for Hot Topic's online store. She's agreed to do some TFP work (which is time for photos, free for everyone, just to get some photos to add to your portfolio) So maybe now I will actually have some work to show when I say "I do freelance design." Although I don't have returning clients, I do have some clients and hopefully this will bring me some people who will want to come back.
So here's some progress:
This was the first one I started,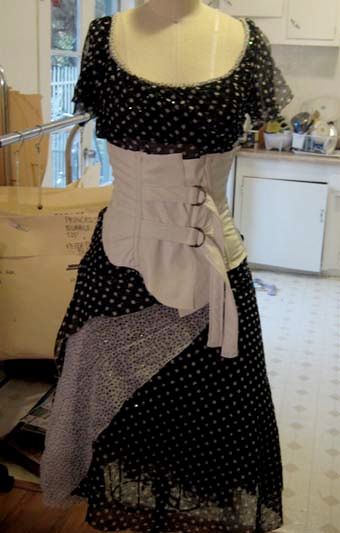 I'm calling it a "transformer dress" Its pictured here with a mini make-shift petticoat underneath (i still haven't made the actual one), which you can wear or not, and with a waist cincher which can also be with or without. It looks cute with just leggings or the full ensemble.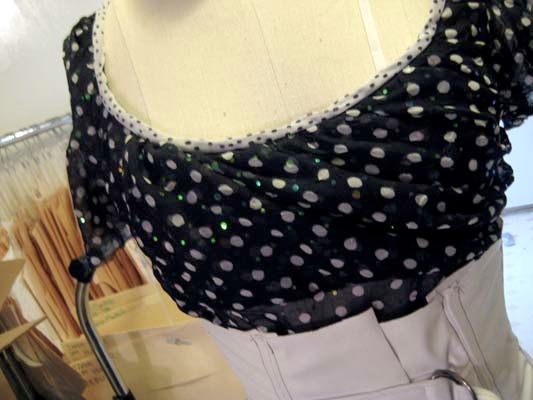 I added a double layer to the bust because its chiffon so it is see through, but you have extra coverage because of the layers at the bust, and the skirt is also multiple layers.
However, its kind of been my arch nemisis right now.... all the work that it has right now was done in one day. I stopped because I didn't have the right zipper, or the right buttons (I am adding button on suspenders to the waist cincher) but then once I got the right zipper the side zip for the dress looked to be a pain in the ass, so its been sitting unfinished...
These are the buttons I found at JoAnns...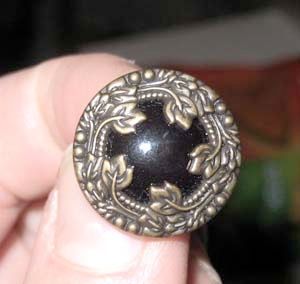 I love them!
And the zipper I got off ebay is a two way separating zipper with the same tarnished silver:
its going to be great once it finally gets finished.. lol...
Design look slightly familiar? I altered the pattern from my Angel Finale dress from the Debut Show...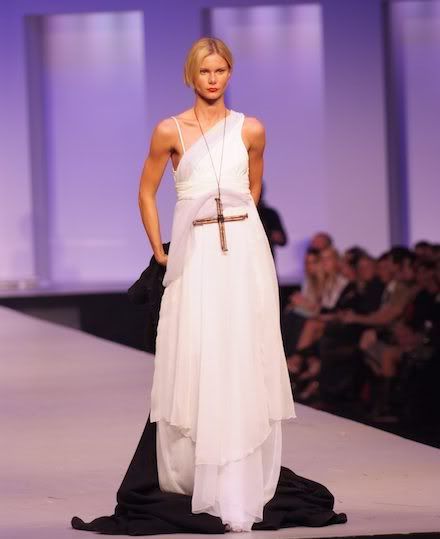 This black and white dress has only about HALF of the layers of chiffon as the original... (man, so much less of a pain in the ass!)
I also used the same fabrics from Debut... White Faux Leather for the base dress and black/white chiffon and black lace. Still needs to be lined and then it will be done :)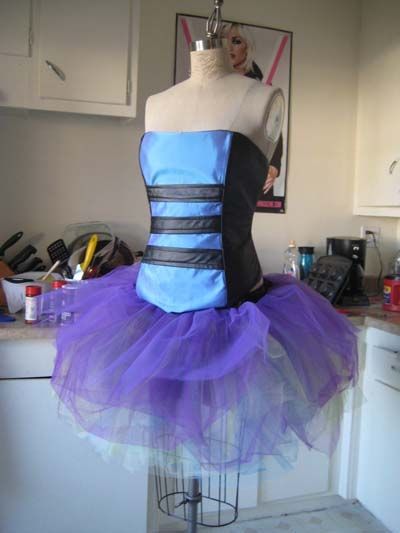 This is one of my favorites... (and the only one thats completely finished!) It has an irridescent taffeta and faux black leather, it has grommets in the back with fuschia lacing. The skirt is like a million layers of tulle! omg... its amazing... lilac, purple, blue, green... its a huge ball of fluff! I can't wait to do photos of this one!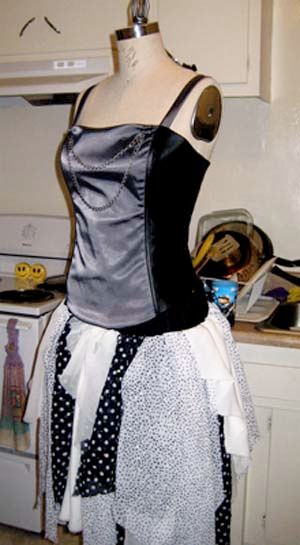 this one also turned out pretty awesome. It was a few things I hadn't tried before.... although the photos are horrible, but you get the idea... I used the scraps from the chiffon I made the Transformer dress out of. I sewed them all together in long lines and gathered multiple layers of them to make this fabulously deconstructed skirt... and then I put it on the form and shredded away! It gave an amazing effect.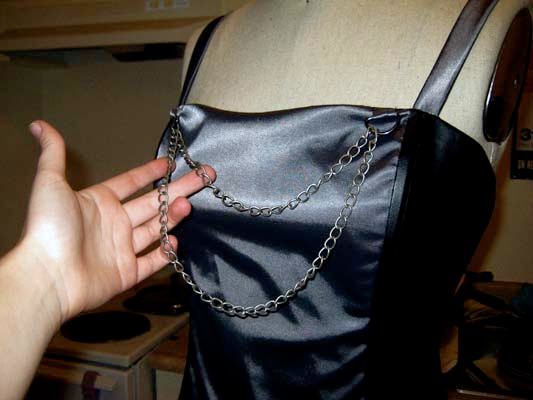 The corset is pretty simple, silver stretch satin and black faux leather, zip closure in the back. I added a chain the the front neckline with D-rings because I felt it needed a little something more. The zipper still needs to be put in the back of this one and then it shall be finished and ready to go ...
*phew*
Now i'm working on another project... something small... and then I have been commissioned to make 6 bags by the 23rd... time to get crackin!